We all consume art.
'We' being the viewers and the listeners; 'art' being physical, audible, and theatrical. When combined, the experience is not unlike the superhuman force heroes create when their powers combine (think, The Avengers).
With Greensboro's August First Friday, Greenhill once again opened its doors to the public, inviting the curious and the wandering into its gallery, see some art, enjoy some snacks, and have a good time.
But come 6:30, the atmosphere changes. Dramatically.
Bodies start moving. Toes are tapping. People are moving to a quick swift beat.
For a magical hour, the gallery becomes a cozy concert hall decked out in artist work, the latest being Jonathan Brilliant's behemoth installation, entirely made out of wooden coffee stirrers and held together with tension alone, the thing seems to breathe.
Now people are dancing. One woman begins to clog. What's making people do things they would otherwise never do in an The Gallery?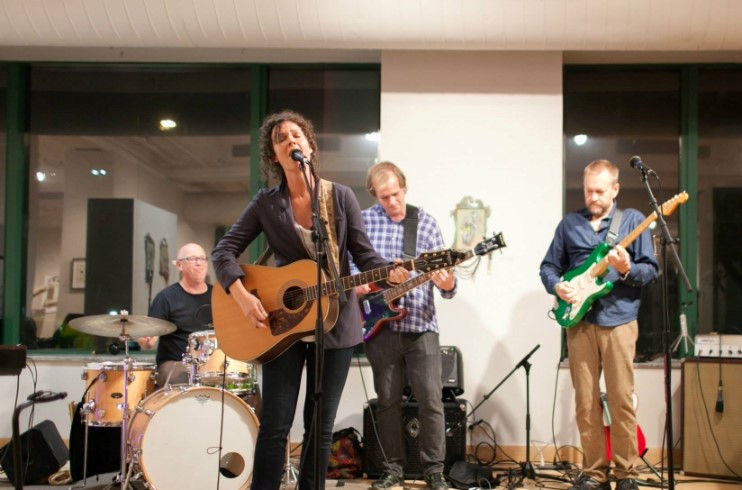 Artist Molly McGuinn (above) talks both about her past and upcoming opportunities playing in The Gallery, "You walk into this space that is completely manipulated in a different way and it takes your breath away. It absolutely clears all of the cobwebs out and suddenly you are confronted with the hours of creativity that someone has spent to put this one piece together just for the purpose of shaking you up a little bit. As a musician, I believe in the bones and the spirit of a place when you play somewhere. This is different because the bones are always new and they are always challenging."
This past First Friday, The Piedmont Regulators came to Greenhill. They're a bluegrassy, old timey, feel-good band and with tunes like "Haul the Woodpile Down" and "Nobody's Business," both traditionally arranged by the band, I bet they'd get your feet moving too.
J.J. Jordan is on the fiddle, Matt Singer plays the banjo, and 'Ernie' Renn juggles different percussion instruments throughout, including spoons, the jaw harp, and, yes, the kazoo. J.J. and Matt are part of the designated vocals team, but get three songs in, and Ernie can't help but join.
Befriending J.J.'s older brother in high school, Matt was introduced to J.J. who was already jamming with Ernie. That's when things started to click.
On the beginning of The Piedmont Regulators, Ernie notes "we were all hanging out one evening and kind of said, screw it, let's just go play for the community," and they began busking aka street performing. "We kind of exclusively do busking and then we get gigs by doing that," adds Matt, "we've been playing together for a year this month!" he adds.
The Piedmont Regulators' have got a truly original sound: definitely an old timey and bluegrass blend, but with streaks of blues, vaudeville, and melodies reminiscent of the Swing Revival of the late 90s.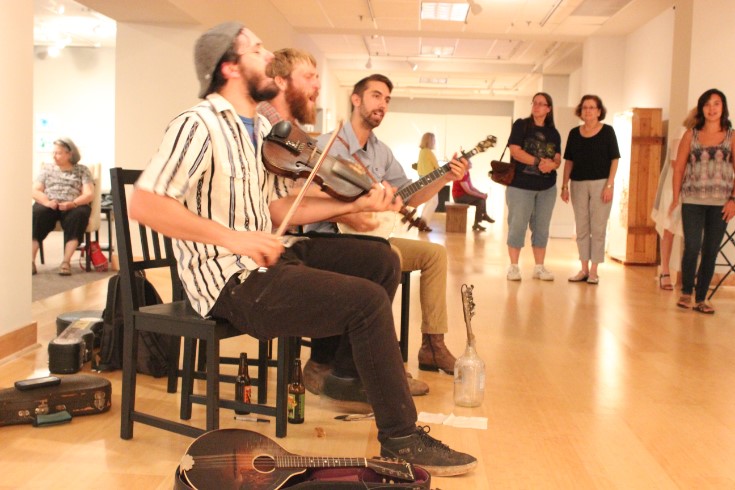 All members agree, there's nothing quite like playing in The Gallery. "It's great to see other people's art on display, and it's [music] just our way of expressing ourselves and it's cool to see other people expressing themselves in different ways and forms of art. As music is very much an art, it feels good to put art and music together in the same space," says J.J.
Go to the following link https://youtu.be/rP4Z2Q00zrE to see Molly McGuinn's full interview on our Youtube channel.