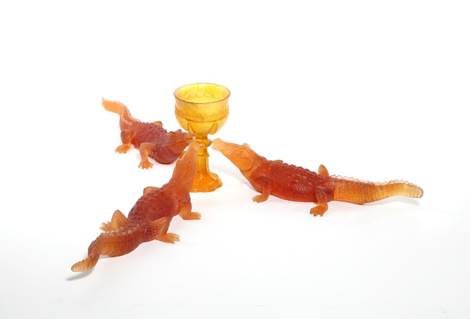 Maia Stern, Ritual Chalice, 2017, cast lead crystal glass, 42 x 42 x 16 inches
For purchase information contact Edie.Carpenter@greenhillnc.org
Ritual Chalice by glass artist Maia Stern is composed of a tall goblet surrounded by three alligators, all in cast glass. The juxtaposition of the alligators with the vessel in this sculptural ensemble evokes the role of animals in magical thinking and mysticism. 
Maia Stern was a Glass Studio Intern at STARWorks Center for Creative Enterprise 2016 and is currently the Artist in Residence at Cleveland Institute of Art, Glass Department.  Stern was the recipient of two Niche Awards 2016 in Professional Cast/Slumped/Fused Glass and Blown Glass and participated in last year's Winter Show.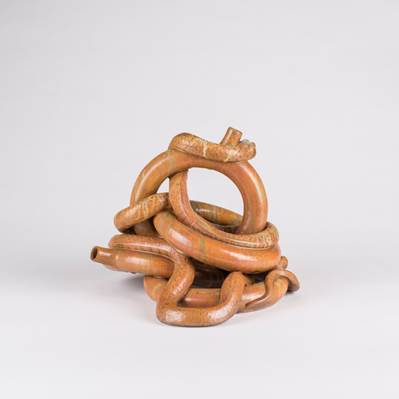 Emily Reason, Ring Jugs, and Copperhead, 2017, stoneware, 12 x 15 x 16 inches
For purchase information contact Edie.Carpenter@greenhillnc.org
Emily Reason's stoneware ring jug is a stunning reinterpretation of two traditional folk art pottery forms – the ring jug and the snake jug.  In this version, the slithering coils of the copperhead are intertwined with two hollow circular ring-shaped vessels. Incised surfaces and rich glazes combine to give the serpent animation as if the clay had momentarily come to life.  
Emily Reason received her Master of Fine Arts degree in Ceramics from the University of Nebraska-Lincoln. She's completed artist residencies at Odyssey Center for Ceramic Arts in Asheville and EnergyXchange in Burnsville. She is the author of Ceramics for Beginners: Wheel Throwing, Lark Books, 2010 and co-founded Flow, a fine craft gallery in Marshall.