MARCH| ARTIST OF THE MONTH | SARAH TECTOR
Diffused sunlight floods the work surface and metalsmithing tools are scattered about purposefully. Sketches of jewelry concepts and silly buttons cover the corkboards that line the walls, and tiny drawers are filled with trinkets upon trinkets. This is a place where magic happens. This is the studio of Sarah Tector.
Sarah's design philosophy is simple: less is more.
"I prefer to let one element in a piece stand out creating mainly in sterling silver, gold, platinum and other mixed media. I specialize in custom made, one-of-a-kind, limited edition, and production pieces of jewelry and small sculptural objects." -Sarah Tector


Sarah is one of the first artists I met when I started managing The Shop at GreenHill. I drove to Raleigh to see her and remember feeling very welcomed and the conversation being easy. She has been showing with us since 2011 and I can always count on Sarah to inspire my selection for The Shop. She keeps me updated on emerging talent around the area and is always involved with a new, exciting project. As you can see below something fun is guaranteed to happen when visiting Sarah, especially for AOTM pictures. This is Sarah with two of her favorite things: jewelry and shoes.


I really enjoy how active Sarah stays in the NC arts community. For example, last month she was the Project Director for an exhibition at Visual Art Exchange called  cre•a•tive voice, where she posed the challenge for multiple metalsmithing artists to create something unique when using the same 5 raw materials (read the full article here). I was taken aback when I saw the work. These artists', who were from all over the world, took Sarah's challenge and blew it out of the water. Each piece was so exquisitely unique to each artist that it gave me chills. Another cool fact about this show is that it travels! So, if you missed the show at VAE and you want a road trip, it's next stop will be Lincoln Studios in Waltham, MA from March11-April28.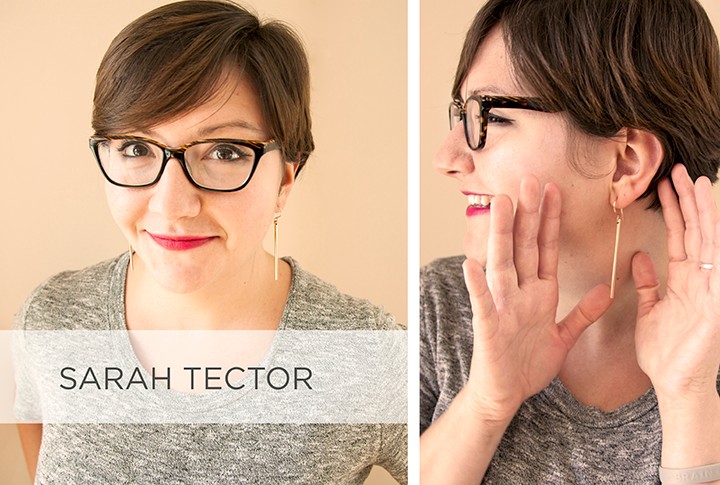 Sarah Tector's Tube Earrings on GreenHill's very own Laura Maruzzella.
To see more of Sarah's work visit The Shop at GreenHill or check out her website here.